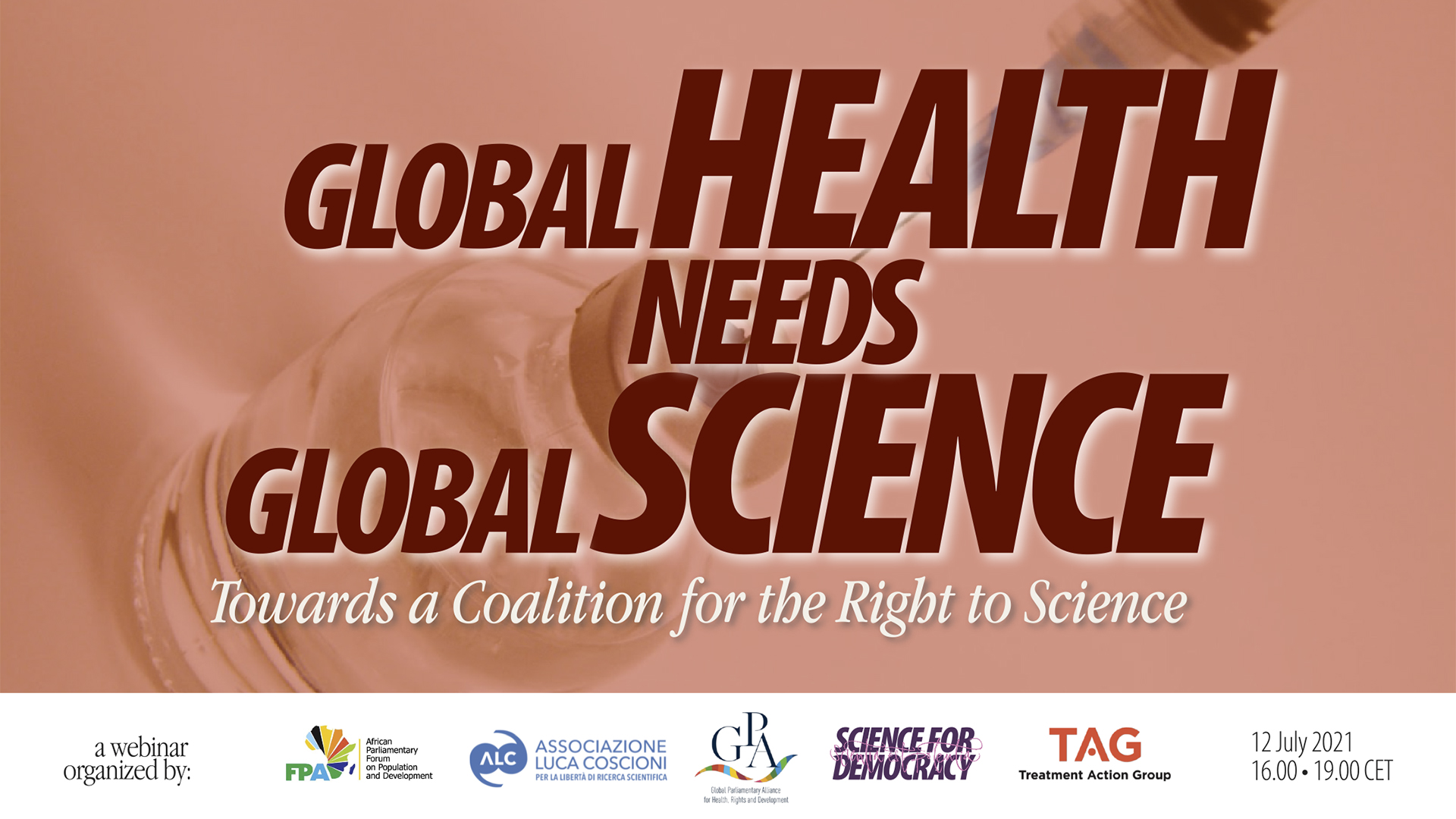 Towards a Coalition for the Right to Science
The Covid-19 pandemic is shining a light on global socio-economic inequalities. A human rights approach to health and science is necessary to fight against the increased disparities in accessing quality vaccines, assistance for vulnerable groups or support for health and socio-economic victims and health workers.
The right to participate and enjoy the benefits of science received little attention by world leaders in their G20, G7, and WHO meetings on global health.
The webinar "Global Health Needs Global Science", which was held on July 12, aimed at bridging this gap by addressing the role of science and the right "to" and "of" science in reducing socioeconomic disparities in healthcare.
With the participation of experts, scientists, jurists, legislators, and human rights advocates, the event presented the necessary steps to be promoted to foster coordinated efforts towards a more participatory, accessible, and transparent process in scientific advancement and the enjoyment of its applications with particular attention to health services.
The webinar was organized by the African Parliamentary Forum on Population and Development, Associazione Luca Coscioni, Global Parliamentary Alliance on Health and Development, Science for Democracy and TAG.
The Program:
4:00 – Introduction
Giulia Perrone, Research and Advocacy Officer, Science for Democracy, PhD student in International Law, University of Turin
Neil Datta, Secretary EPF
Mike Frick, Co-director of tuberculosis program, Treatment Action Group
4:10 – Opening Remarks
Filomena Gallo, Secretary, Associazione Luca Coscioni
Neill Datta: Secretary, European Parliamentary Forum for Sexual and Reproductive Rights
Gisa DANG, Health and Human Rights Consultant, Treatment Action Group
4:30 – The Right(s) Path to Global Health
Chair: Gisa Dang, Health and Human Rights Consultant, Treatment Action Group
Andrea Boggio, Professor of Legal Studies, Bryant University, Steering Committee, Science for Democracy
Giovanni Brauzzi, Retired Italian Diplomat, New Europeans Rome, Associazione Tutti Europa ventitrenta " A European Health Union"
Ezio Távora dos Santos Filho, Ph.D. Community Engagement Projects Coordinator REDE-TB, "Medical Trials, Participation & Right to Science"
Jessica Wyndham, Director of the Scientific Responsibility, Human Rights and Law Program of the American Association for the Advancement of Science (AAAS)
5:35 – The Parliamentary Handbook on Universal Health Coverage
Chair: Marco Perduca, Former Senator, Founder of Science for Democracy
Ms. Caroline Kwamboka N. (EPF/FPA) Presentation on the Parliamentarians UHC Handbook
Ms. Desta Lakew, (AMREF) Discussion on the role of evidence in inspiring change among state and non-state actors with examples from AHAIC and UHC Commission
6:00 – The Parliamentarians Panel
Parliamentarians Panel Chair: Hon. Maimouna Ouedraogo Sawadogo Chair's Briefing & Intro of the Parliamentarians
Hon. Ernest Medewanou, Member of Parliament, Benin                                   Discussion on PHC as a cornerstone of achieving UHC and a first line of defence in Global Health
Hon. Dennitah Ghati, Member of Parliament, Kenya. Discussion on the importance of science in achieving gender equality
Hon. Abdul Rashid Hassan Pelpuo, Member of Parliament, Ghana Discussion on the key role that evidence plays in tracking progress towards the ICPD25 promise UHC and PHC
Hon. Sibusisiwe Masara, Member of Parliament, Zimbabwe. Discussion on the important role science has played in influencing parliamentarians to advance Immunisation and support protection populations
Hon. Prof Bakary Ouattara, Member of Parliament, Cote d'Ivoire                  The importance of budgeting and accountability in advancing all facets of Global Health
Q/A
6.30 – Towards a coalition for the promotion of the right to science
Chair: Marco Perduca, Former Senator, Founder, Science for Democracy
Cesare Romano, Professor of International Law and W. Joseph Ford Fellow, Loyola Law School Los Angeles