Español a continuación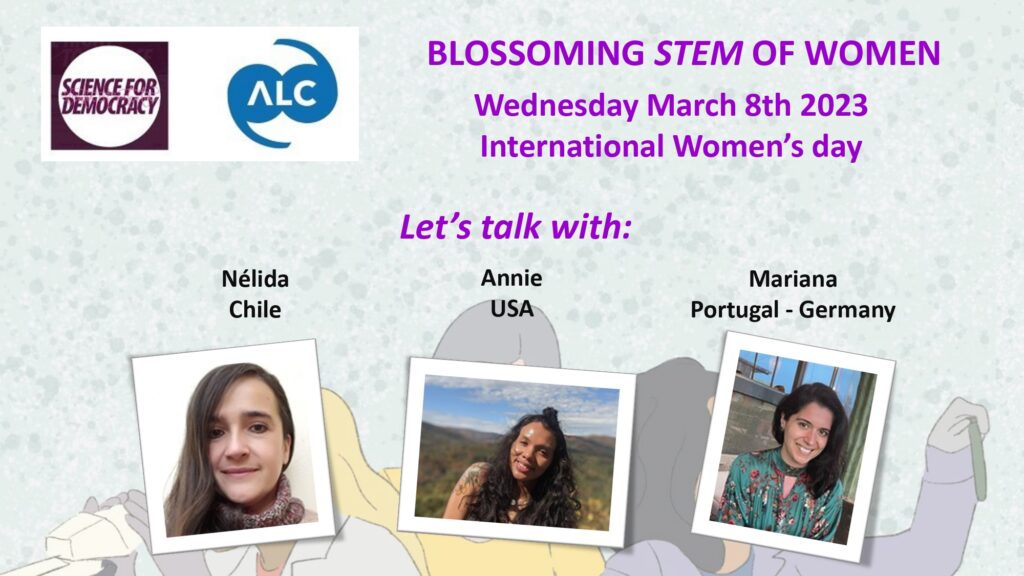 On the 8th of March, on International Women's Day, Science for Democracy, in collaboration with Associazione Luca Coscioni, is organising an online event "Blossoming STEM of Women".
The event will provide students, professionals and anyone interested the opportunity to interact with professional women educated in STEM across a field of disciplines: foundations, finance and banks, international organizations, R&D for private companies, research in public universities, and science communication. The speakers are connecting from different countries located in various continents.
The event will be aimed at providing students with the opportunity to interact with professional women educated in STEM across a field of disciplines: foundations, finance and banks, international organizations, R&D for private companies, research in public universities, and science communication.
DURATION: 1 hour
WHERE: Google Meet. Register here to receive the link.
Please note registration is compulsory in order to attend.
WHEN: 1pm CET, 7am EST
THE PANEL:
Event coordinator:
Francesca Battista
Francesca Battista obtained her Ph.D. in Quantum Physics at the University of Lund, Sweden in 2013. She worked as a researcher in Germany and Argentina where she also served as a Physics instructor at the University of Buenos Aires and in international schools. In 2018 she completed the Masters in Public Communication of Science and Technology at the University of Buenos Aires. In 2019, she moved to the United States to continue her studies in Science Technology, and Society. She obtained her Master's in Science and Technology Studies at Virginia Tech University in 2021.
Speakers:
Nélida Pohl
Nélida Pohl has a degree in Biology, a Master's in Ecology and Evolutionary Biology (both degrees from the University of Chile), a Ph.D. in Biology (University of California, Irvine), and a Master's in Science Communication (Imperial College London). She is currently Director of Communications of the Institute of Ecology and Biodiversity, Scientific Advisor of the PAR Explora RM Suroriente, professor, and independent consultant. She was also president of the Chilean Association of Journalists and Professionals for Science Communication, ACHIPEC, between 2018 and 2021. As a science communication teacher, she conducts seminars, workshops, pre- and postgraduate courses, and is co-founder of the Diploma Postgraduate in Science Communication from the University of Chile. Her main professional motivations are: to create awareness about the importance of biodiversity, to train new science communicators, to expand the reach of science to the community, and to promote multiple interactions between science and art.
Annie Y. Patrick
Annie Y. Patrick is a Post-Doctoral Fellow in the Studio for Transforming Engineering Learning and Research (STELAR) Lab in the Coulter Department of Biomedical Engineering at Georgia Tech. She received a bachelor's degree in Psychology from Mississippi College and an associate's degree in Nursing from Holmes Community College. After a fulfilling nursing career working in a variety of specialties, she became interested in technology and completed a master's degree in network technology and cyber assurance at East Carolina University. She received her doctorate degree in Science and Technology Studies (STS) from Virginia Tech. She works as an applied scholar in interdisciplinary spaces focused on the groundwork of sociological participation, social (in)visibility, care work, and social justice.
Mariana Duarte
Mariana Duarte is project manager at BASF. Mariana graduated in Chemical Engineering at the University of Porto and obtained a PhD from Lund University, in Sweden, on a dual program between academia and industry. She was awarded a Marie Curie grant to develop her research work between Lund University and Biotage AB, a middle sized Swedish company headquartered in Uppsala. Her research work focused on polymeric materials for applications in medicine, with focus on diagnostics. In 2017, Mariana decided to continue her career in a leading chemical company and moved to Germany to work at BASF as research engineer and lab team leader. Together with her team, she developed polymer production processes for a wide market range, from automotive to construction and consumer. More recently, she started a new position at the business unit Health & Nutrition, where she leads innovation and development projects.
With this initiative, the Associations Science for Democracy and Luca Coscioni would like to contribute to the social change required to reach the objectives set by the United Nations and to help teenagers overcome stereotypes about gender, sciences, and work.
Science for Democracy thanks the other volunteers who helped in the organization of the event: Daniel Grimaldi (Argentina, IT support), Amalia Guaymas (Argentina, communication), Carolina  Martinez (Mexico, communication), Sofia  Dombrovsky (Argentina, communication), Mercedes Roch (Argentina, Illustration)
¿CÓMO ADHERIR A LA INICIATIVA?: Llenando este formulario online. Solamente las direcciónes de correo electrónico registradas serán admitidas al evento.
¿CUÁNDO? Miércoles 8 de marzo, Día Internacional de la Mujer, 15 h CET, 9 h EST
DURACIÓN: 1 hora
¿DÓNDE? Online mediante la plataforma Google Meet. El enlace se enviará a las direcciónes de correo electrónico registradas.
COORDINADORA DEL EVENTO: Francesca Battista
Francesca Battista obtuvo su título de doctora en Física Cuántica en la Universidad de Lund, Suecia en 2013. Trabajó como investigadora en Alemania y Argentina, donde también se desempeñó como docente de Física en la Universidad de Buenos Aires y en escuelas internacionales. En 2018 completó la Maestría en Comunicación Pública de Ciencia y Tecnología de la Universidad de Buenos Aires. Y en 2019 se mudó a los Estados Unidos para continuar con sus estudios en Ciencia, Tecnología y Sociedad, obteniendo una Maestría en Estudios de Ciencia y Tecnología en Virginia Tech University en 2021.
ORADORAS:
Isabella Apruzzese
Isabella Apruzzese estudió Biotecnología Molecular e Industrial en la Universidad de Bolonia, y Comunicación Científica en la Escuela Internacional de Estudios Avanzados (Scuola Internazionale Superiore di Studi Avanzati, SISSA) en Trieste, Italia. Después de completar sus estudios, comenzó a trabajar como consultora de la Organización de las Naciones Unidas para la Agricultura y la Alimentación (Food and Agriculture Organization, FAO) en temas de biotecnología alimentaria, seguridad alimentaria y bioprotección. Su trabajo con la Organización la llevó a Bangkok, Tailandia, para trabajar con países de la región de Asia y el Pacífico, y luego a Roma, Italia, en la sede central. Antes de su trabajo con la FAO, Isabella se desempeñó junto al grupo de Biotecnología Industrial del Centro Internacional de Ingeniería Genética y Biotecnología (International Centre for Genetic Engineering and Biotechnology, ICGEB) en Buenos Aires, Argentina, en la conversión de desechos de la industria papelera en biogás.
Carolina A. Martinez-Gutierrez
Carolina Martínez nació en México. Estudió Biología Marina, y desde muy temprano en su carrera académica, descubrió un gran interés por las bacterias marinas relevantes para el funcionamiento del océano. Después de su licenciatura, realizó estudios de posgrado (maestría y doctorado) en los que encuadró sus investigaciones en estudiar la evolución de los microorganismos marinos. Actualmente, es estudiante de postdoctorado en la Universidad de North Carolina en Greensboro, donde continúa investigando sobre cómo es que los microorganismos marinos evolucionan y cambian a través del tiempo. Uno de los intereses de Carolina está relacionado a acercar la ciencia a niños y niñas de Latinoamérica de una manera divertida.
Erina Petrera
Erina Petrera es Licenciada en Ciencias Biológicas, realizó su doctorado en la Universidad de Buenos Aires donde se desempeña como docente e investigadora en el área de Virología. Es Secretaria de Extensión Universitaria del Departamento de Química Biológica y Referente de las actividades de Popularización de la Ciencia de la Facultad de Ciencias Exactas y Naturales de la UBA. Se especializó en Comunicación Pública de la Ciencia y la Tecnología y actualmente es directora de la revista científica Química Viva. Investiga en la búsqueda de nuevos antivirales, especialmente en extractos de plantas con propiedades medicinales. Está fascinada por la ubicuidad y versatilidad de los virus.
Macarena Rojas Abalos
Macarena Rojas Abalos, bióloga y magíster en periodismo por la Universidad Católica y el diario "El Mercurio". Desde 2012 se dedica a la comunicación de la ciencia liderando distintas iniciativas de divulgación. Es docente en la Facultad de Comunicaciones de la Universidad Católica donde dicta los cursos de pregrado de Periodismo y medio ambiente, y Comunicación de la ciencia, además, es profesora del ramo Fundamentos de la Comunicación de la Ciencia en el Diplomado de Difusión y Comunicación de la Ciencia, UC. También imparte el curso de Comunicación Científica para los cursos de doctorado de la Vicerrectoría de Investigación de la Universidad San Sebastián. Cuenta con experiencia dictando talleres anuales a los Proyectos Explora Regionales, diversas universidades y Sociedades Científicas en Chile. Es asesora del Fondo de Cultura y Libros de la Vicerrectoría de Vinculación con el Medio de la Universidad de Santiago de Chile, USACH.
Con esta iniciativa, las Asociaciones Science for Democracy y Luca Coscioni quieren contribuir al cambio social necesario para alcanzar los objetivos de las Naciones Unidas y ayudar a las y los adolescentes a superar los estereotipos sobre género, ciencias y trabajo.
Science for Democracy agradece a los demás voluntarios que colaboraron en la organización del evento: Daniel Grimaldi (Argentina, soporte TI), Amalia Guaymas (Argentina, comunicación), Carolina Martínez (México, comunicación), Sofia Dombrovsky (Argentina, comunicación) , Mercedes Roch (Argentina, Ilustración)