On June 17 the four-part series "Not the Science Type" by filmmaker Julio Palacio premiered in occasion of the Tribeca Film Festival and it is now available on platforms such as Apple TV Plus and Google Play (trailer: www.youtube.com/watch?v=4O5jgB6YJvI )
The documentary features four groundbreaking female scientists whose lives, goals and achievements had to confront the negative effects of stereotypes and traditional barriers to the STEM field, like gender, racial and age discrimination. These women are :
Gitanjali Rao, TIME Magazine's Kid of the Year 2020 and 15-year-old inventor on a mission to inspire and create a global community of young innovators to solve problems all over the world.
Ciara Sivels, nuclear engineer at the Johns Hopkins Applied Physics Laboratory, first Black woman to earn a Ph.D. in nuclear engineering, and AAAS If/Then ambassador.
Jessica Taaffe, global health scientist, microbiologist, and AAAS If/Then ambassador.
Jayshree Seth, chemical engineer and 3M's chief scientist advocate
The movie has been sponsored and produced by the US global powerhouse 3M (Minnesota Mining and Manufacturing Company), which in recent years has often tried to spark a discussion on topics such as diversity, equal opportunities and inclusion in the STEM field, in partnership with Generous Films and the American Association for the Advancement of Science (AAAS).
The very same company indeed commissions since 2018 an independent research project, the 3M State of Science Index, that wants to yearly explore and measure global attitudes about and towards science. The 2021's survey was conducted on 17 countries and shows promising results, letting us believe that – especially during the current pandemic – science has inspired a sense of optimism and hope around the world. From the data collected, four key themes have been highlighted.
The first concerns the image of science. A renewed trust in science is riding higher than ever before. 91% of respondents (5% more compared to 2018) said they trust science, and 85% agree there are negative consequences to society if science is not valued. Furthermore, 75% say they defend science when someone is questioning it. In the past year, the production of essential personal protective equipment (PPE) and the development of life-saving vaccines in record time led scientists to raise global expectations about what is achievable and society eventually felt the benefits of science closer than ever. As a fact, 65% of Gen Z and millennial adults surveyed in the latest State of Science Index said they are more inspired to pursue a STEM career because of the pandemic.
The second topic describes the necessity of infusing more equality into STEM education, showing as 87% of respondents around the globe said that more needs to be done to encourage and keep girls and women interested in STEM education, and 73% acknowledged that equal access to STEM education is often not available to underrepresented minorities.
Around the world, people understand that improved representation is important at every level because diversity brings in people with different backgrounds who can ask different questions and open new perspectives to the scientific process, pushing the field forward. 
The third theme calls an urgent focus on sustainability revealing a rising desire, particularly among younger respondents, to make sustainability and issues like climate change, ocean plastics pollution, air quality and renewable energy a priority. 
Ultimately, the latest State of Science Index makes hope the defining sentiment for science in 2021 with 80% of respondents saying they think science will improve their lives over the next five years. But it also underlines that many of the changes that must take place in this momentum are systemic and respondents to the Index claim that governments, teachers, and companies like 3M must all play a part. Both public and private sectors must be committed to sharing responsibility for broader STEM education.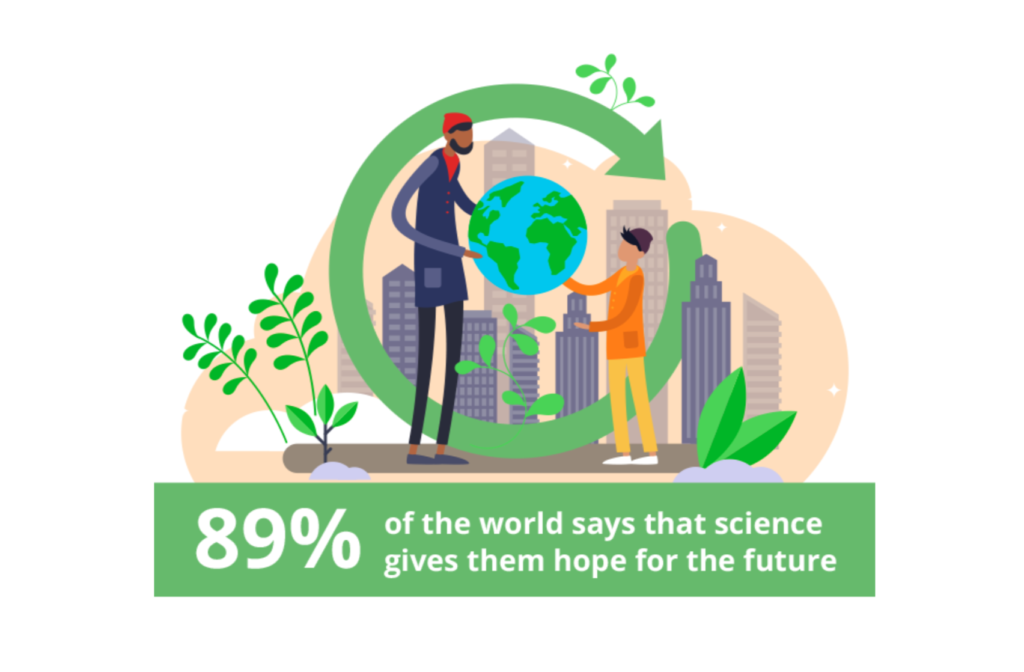 References:
https://www.washingtonpost.com/brand-studio/wp/2021/06/17/feature/the-changing-face-of-science/
https://www.3m.com/3M/en_US/state-of-science-index-survey/
https://www.3m.com/3M/en_US/state-of-science-index-survey/not-the-science-type/.