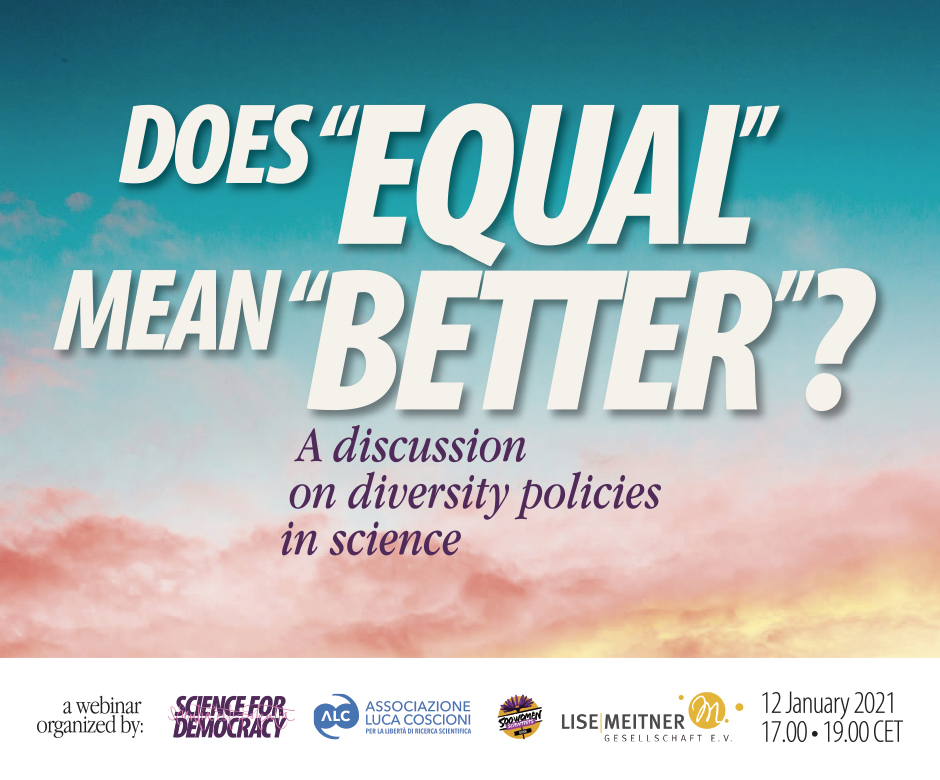 On Tuesday 12 January from 5 to 7 p.m. CET, join our conversation to discuss gender and diversity policies in science (but not only) from different perspectives.
Opening remarks by Laura Convertino, Member of the Steering Committee of Science for Democracy
Speakers:
Dr. Ersilia Vaudo, Chief Diversity Officer at European Space Agency (Paris, France), member of the International Women's Forum, of the Women's Forum Daring Circle of Women in STEM, and of Women in Aerospace
Prof. Dr. Silvina Ponce Dawson, University of Buenos Aires and CONICET (Argentina), Acting President Designate IUPAP, member of the Executive Committee of the Gender Gap in Science Project
Dr. habil. Haibo Ruan, Technical University of Hamburg, Germany, Board member of the Lise-Meitner-Gesellschaft
Soudeh Rad, Gender Equality Activists and researcher, President of Spectrum (Paris, France) and Co-Chair at ILGA-Europe Executive Board (Brussels, Belgium)
Moderated by Antonella Succurro, Scientific Officer of the West German Genome Center (Bonn, Germany) and Researcher on behalf of Science for Democracy

The discussion is a follow up to a conversation that happened on Twitter (yes social media can be useful too 😉 ) to respond to a study published by Nature Communication last November.

These are some of the issues that will be discussed:
Do diversity and equal opportunities policies work?
How do we solve their influences?
Mentoring programs: are they effective?
Impostor syndrome: why are women and minorities more affected?
How do we quantify equality?
Gender is not binary: are equal opportunities policies inclusive?
"Gender": hard categorization vs fluidity
If you have questions or comments on any of the subjects addressed please email them by Monday 11 to info@sciencefordemocracy.org so that we can organize the conversation in the best possible way.
The webinar is organized by Science for Democracy and the Luca Coscioni Association in partnership with 500 Women Scientists (Bonn) and the Lise Meitner Society.